Bill, Janine, and Tabitha Atwell (pictured above) play important roles in the growth of the Epilepsy Foundation of Minnesota (EFMN). Bill currently serves of the Board of Directors. Janine was part of the discussion that made Anoka-Hennepin schools the first Seizure Smart District. And Tabitha created the first Atwell family Walk team in 2009, named Team Stephanie Atwell.
They do this because of Stephanie. Bill and Janine's daughter, and Tabitha's sister, who passed away from Sudden Unexpected Death in Epilepsy (SUDEP) in 2008 while studying abroad in Vienna, Austria.
"She only experienced three grand mal seizures that were witnessed. The fourth, unwitnessed, is the one that killed her," says Janine.
Stephanie and her family went through eight years of doctor appointments and medication changes to try and control her seizures. Now, Bill, Janine, and Tabitha continue their journey by helping others.
"When she died the entire family was devastated and our recovery is still ongoing. We found we all grieved differently. Janine needed to be surrounded by friends and I wanted to be alone. My other daughter Tabitha organized our first Walk team in an effort to find some good in all the bad. Time does not completely heal a wound like this, but it does get better. Initially, we found it very difficult to talk about Steph. Now, we often do and we often laugh remembering something goofy that she did. All the volunteering and fundraising we have done with EFMN is in honor of Steph," says Bill.
Being of service to others shows up in the entire Atwell family's epilepsy journey. Four years after her epilepsy diagnosis, Stephanie went to her first EFMN event. It was a community information panel for people newly diagnosed, and in the crowd was a mother and father who were concerned for their daughter's future and what her life would be like.
"When it came time for our introduction, Steph stood up and directed her comments to the father and mother and used herself as an example of someone who was dealing with epilepsy and living a full life. She gave these parents hope that their daughter would do the same. I was never prouder of my daughter," says Bill.
Bill also took away a message from Stephanie that night. He's since focused on making sure others have the opportunity to live the way she lived. A full life.
---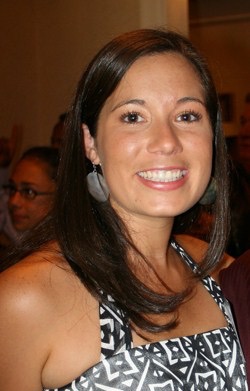 "I have the ability to motivate these families because I set an example for them in a way that other volunteers may not be able to. I have epilepsy, and although I went through the stages of denial, self-doubt, and giving up, I found a way to get through all of that to achieve my dreams of graduating from college and supporting myself even though I have a disability."
-Stephanie Atwell. From an essay on leadership, written during her time at the University of Wisconsin-Madison.
---
Team Stephanie Atwell is constantly at the top of the leaderboard for highest fundraising Walk teams. And even though the annual Gala is far from Bill's favorite event, because it means he has to dress up, he attends and brings friends every year. The common theme being these fundraising events are crucial to supporting programs like Camp Oz, Seizure Smart Schools, Connect Groups, and Information Services.
But staying connected to the epilepsy community after losing a family member isn't easy.
"Quite honestly, I really didn't want to be at all associated with the disorder that killed my daughter. However, I came to realize through the grief process, that I could support Bill and Tabitha in their work with the organization," says Janine.
Janine, Bill, and Tabitha's continued involvement means opportunities for others. It means more people living a full life.
"We have come a long way since Stephanie's death. When it happened, I wanted something good to come out of all the misery caused by her death and EFMN has provided the vehicle for me to make that happen," says Bill.