A family of seven means a busy household. Jenny and Allen Bauer have five boys, all of whom are school-aged. This includes Allen Bauer Jr, who at six years old was diagnosed with epilepsy. As a nine-year-old he's now finishing his final year of elementary school.
For between 60-70% of people with epilepsy, the cause of it is unknown. For Allen Jr it's the result of a car accident that happened on the way home from a family vacation.
"His seizures started within a week as a result from the head trauma. This has changed us a lot, but not for the worse. We have overcome many obstacles that could have left us totally defeated, but we embrace every day as it comes to us," says Jenny.
Currently, each day includes absence seizures, but Allen Jr has been tonic-clonic free for 18 months and counting. His challenges and victories go hand-in-hand.
"Frustrations come easy for him, when he can't focus or is tired because of a cluster of seizures, but this is Junior's last year in elementary school and he is working so hard to stay focused, even with his distance learning. He is mastering his multiplication and will be moving on to division soon, this is a huge victory for him and us!" says Jenny.
There's also the social side of Allen Jr that he's been able to explore through the Shining Stars program, and specifically the annual Mall of America celebration at Nickelodeon Universe that brings kids and families impacted by epilepsy together. Becoming comfortable with his epilepsy makes it easy for him to talk about it. Like when he opens his epilepsy awareness snack and soda stand during the annual city-wide garage sale.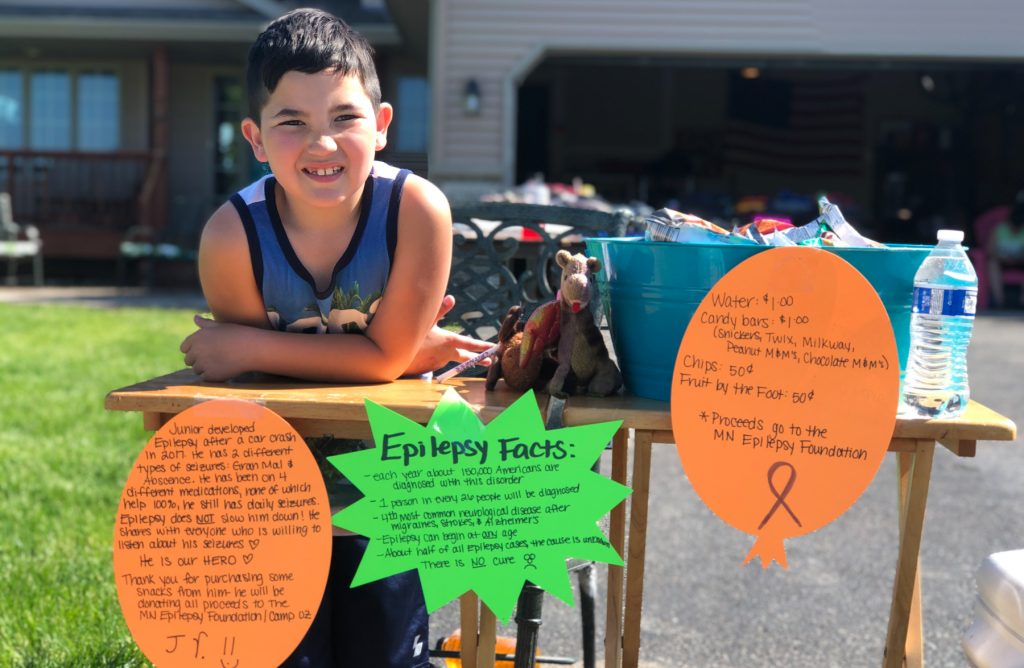 "The proceeds he has made he donates to EFMN. He loves sharing his story and facts about epilepsy, he does it with such grace and a huge smile on his face."
When he's not going above and beyond what a typical nine-year-old does in their free time, Allen Jr spends his time similar to how you'd expect others his age to. Playing video games like Minecraft and spending time with his dog Gabe.
It's the collective effort of the seven-person Bauer household that's helped get him to this point.
"Throughout the years we have educated ourselves and others to be able to understand and care for him. Junior is not left unattended for any period of time. We can recognize when he may have a seizure and we know what to do when he has them. Junior is the youngest of five boys, his four big brothers are amazing at helping with him. Our Ohana has built a stronger bond that we could have ever imagined. We are not different, we are more unique," says Jenny.