The Haggbergs live in the small town of Isle, Minnesota, right on the edge of Mille Lacs Lake. Hunter was just turning 12 years old when he was diagnosed with epilepsy, and locally they couldn't find the resources they needed. Hunter's parents did a lot of research on their own about medications, which led to confusion and few answers. One of these nights of researching is what led Anna, Hunter's mom, to the Epilepsy Foundation of Minnesota (EFMN).
"I remember I was crying on the kitchen table after the kids went to sleep. Hunter was having anger issues, he wasn't the same kid, and his seizures weren't controlled. We felt hopeless," says Anna.
An email to the EFMN St. Cloud Regional Coordinator marked a change in Hunter's epilepsy journey. The Haggbergs learned of a new doctor who was able to give them the care they needed, and helped Hunter reduce the number of simple partial seizures he was having.
This led to a change inside of Hunter. He better understood his epilepsy and was happier. Not only that, but he started raising awareness and educating others, leading to him getting strong support from his school. Earlier this year Hunter began reading to and teaching younger students about epilepsy, and helped organize a school-wide "Purple Day" that raised awareness and taught others how to respond to someone having a seizure.
In response to all the hard work Hunter did in raising epilepsy awareness and educating students, the student council surprised him with a school-wide Penny Wars challenge. It raised over $350 for his 2020 EFMN Neighborhood Walk team, Hunter's Hope. A name that came from Hunter's cousin, and fit perfectly with how the family's mindset changed since the initial diagnosis.
"It seemed fitting as we have so much hope that things will get better. We have hope that we can help educate others and spread awareness, and hope that Hunter can one day be 100 percent seizure-free," says Anna.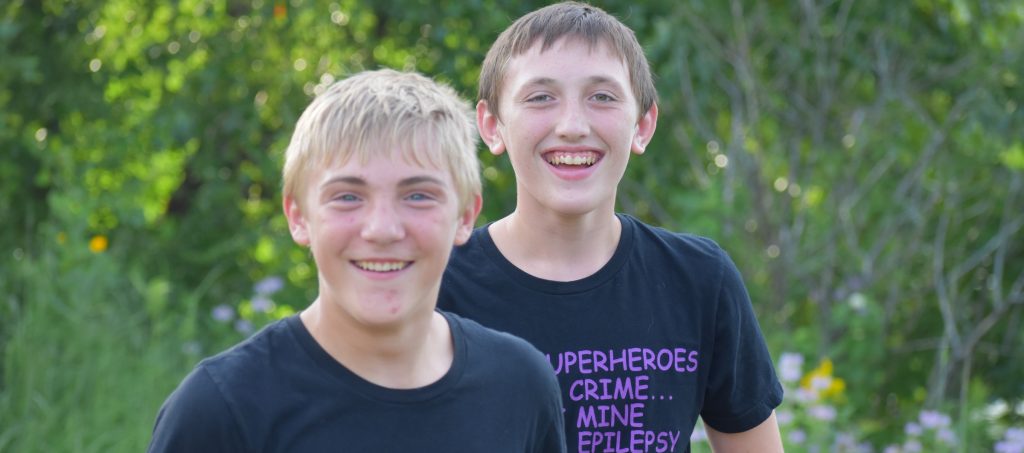 Hope is important to the Haggbergs. However, they aren't sitting back and just hoping things get better. They're being active in Hunter's treatment, and him in raising awareness and changing the way people think about epilepsy and seizures. Both for himself, and others.
"I decided to raise awareness at school in case other kids, or someone in their family, has epilepsy. If someone wants to raise awareness and doesn't know where to start, they should create a walk team," says Hunter.