We hit the halfway point of Virtual Family Camp with a Day Three packed full of activities. The morning kicked off with an art and music combination called Unspoken Symphony. Campers busted open a pack of special paper with theme ideas and got to work drawing and inventing. Some of our favorite pieces were Boo the Monkey, Mr. Snail, a family picture, and a few intricate patterns with great colors.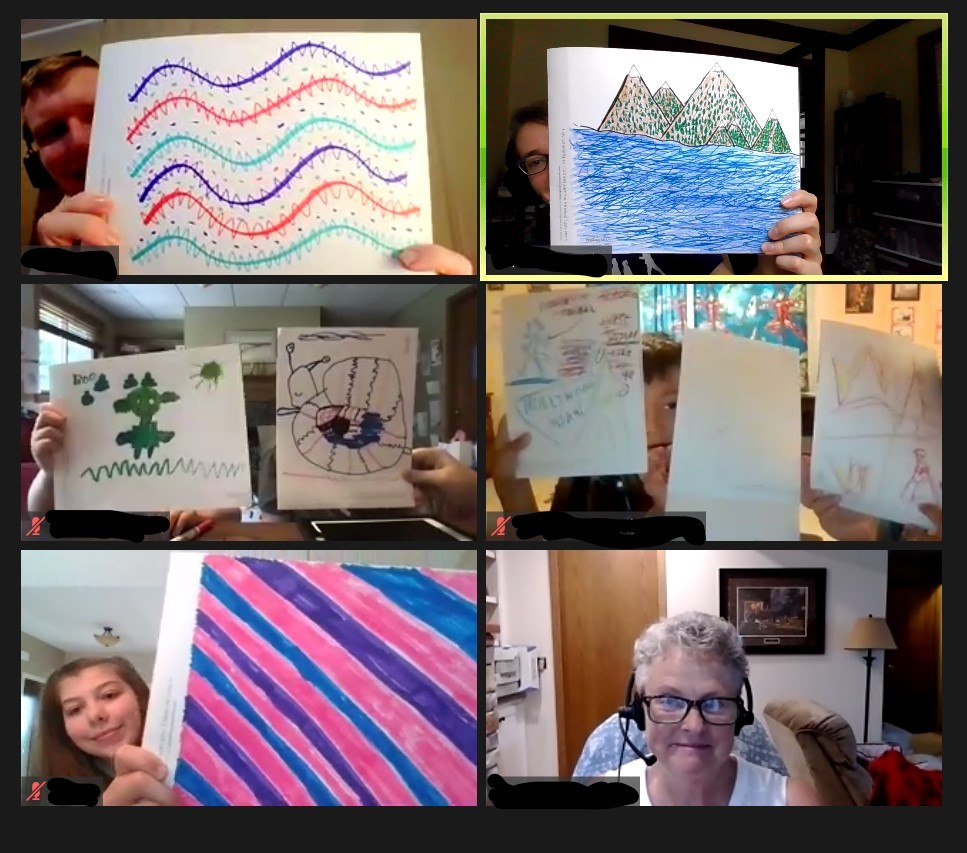 After completing the artwork, our families uploaded a picture of it online to a special website where it promptly created personalized music based on their masterpiece. It was so cool to see how the music matched up to the artwork. The early art session finished off with some relaxing circular-based mandalas. Check out these great camper tips for bringing more relaxation into your own lives: listening to music, writing a story, and spending time with loved ones.
With the enticingly-titled Animal Bonanza and exciting Tin Foil Sculptures activity breakout sessions on deck, an agonizing choice needed to be made. Over in Animal Bonanza a "Foxadoodle" was born out of origami paper before shifting to a picture reveal guessing game of exotic animals from around the world. The animal lovers finished with a quick field trip to the San Diego Zoo and spotted happy penguins, hungry polar bears, and a very hairy ape's back via webcam. The tin foil sculptors dove right into transforming their flat pieces of foil into imaginative 3D people, dogs, hats and we even spotted a unicorn. Definitely a sign of some Family Camp Magic!

Of course we have other activities planned too but campers are already looking forward to Day Four to finally discover why they have a big bag of dirt in their Camp in a Box. See you tomorrow!
Things we loved hearing:
"That's not the Sydney Opera House. That's a silly old boat!"
"My dream vacation would be to Hollywood because I'm going to be a celebrity."
"Squeak, squeak" – from a rock that looked like a mouse.
"Arf, arf" – from a shell that looked like a seal.
"Who, who, who" – from a hazelnut that looked like an owl.