Day Four of Camp Oz is in the books and it was another amazing day filled with origami art, washing dye from our hands, licking marshmallow from our fingers, and showing off just how smart everyone is. Although our group for nature trivia was small, oh boy were they mighty in their intelligence and confidence. Not only was the answer to every question "so obvious," the campers delighted in the fact that they got to stump our leader Angela and teach her a thing, or two, or three. A future rematch might have to be in the works!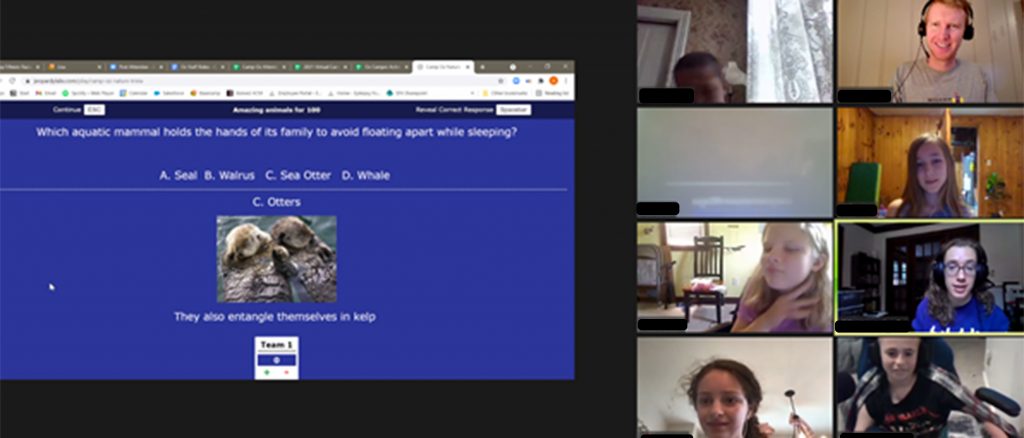 On the Art side, our artists got to design their own campsite, complete with origami tulips and birds. Whether they were 2D or 3D, everyone agreed that they were ready to roast some real marshmallows over their fake orange construction paper campfires.
Activity breakout options for Day Four let our campers splash around with dolphins, design their own tie dye shirt, or whip up some tasty snacks. Our first group took a quick flight down to the Dolphin Research Center in Florida and pitted their wits against some very smart dolphins in a special version of Jeopardy. Did you know that although dolphins are known for their "talking," they don't actually have vocal chords and they make all of their communication sounds through their blowhole? That fact is hard to believe but luckily the center showed multiple videos of their dolphins providing evidence.
Our second batch of campers dove into the t-shirt business with their very own set of tie dye materials. Designs like the Spiral, Double Spiral, Donut, and Bullseye were created, but only after checking and then checking again that we would be dyeing only the shirts and not the carpet. No pictures to report as the shirts are still sealed away in plastic bags letting the dye do its work. Who knew that the tie dye activity would also require a lot of patience?
Our last camper cohort migrated to the kitchen for some rice krispie and apple pop culinary creations. The simple recipes added up to a ton of fun and provided plenty of time to connect over the shared love of snacks and food. The cooking crew even dove into what baking smells they loved the best and universally agreed that coffee was one of the things that definitely doesn't taste as good as it smells.
How is tomorrow already Friday? The last day of camp offers a chance to look into the world of puppets, connect over music, and tie some long lasting classic camp crafts. Talk soon!
Things We Loved Hearing:
"For anyone who didn't choose trivia, you missed a fun game of stumping the teacher!"
"Coconut oil is also good for getting the glue off when you have an EEG!"
"Slime was my favorite because it was the most messy one and it ended up really cool."