Epilepsy can be diagnosed at any point in someone's life. There are currently more than 300,00 seniors with epilepsy in the US, and they've been identified as the population with the most rapid growth of epilepsy diagnoses. The most common provocations in seniors with epilepsy are stroke, degenerative disorders such as Alzheimer's disease, tumors, and head injuries due to falls. However, about 50% of older adults with epilepsy do not know the cause of their seizures.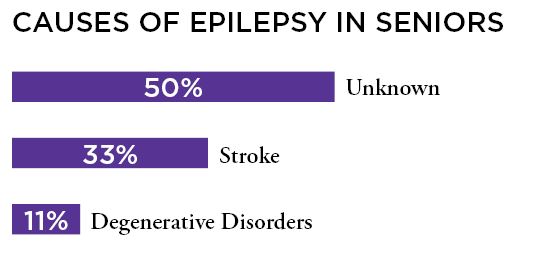 Epilepsy can be difficult to diagnose regardless of age, but when many of the common signs are often related to "getting older," it makes it even more likely the warning signs get overlooked. Some of these signs include memory problems, confusion, falls, dizziness, or sensory changes like numbness in limbs.
In order to provide services to people throughout their epilepsy journey we are introducing a new Seizure Smart Training specific to caregivers. Our Adult Social Events are open to all adults with epilepsy and gives them the opportunity to meet others. Connect Groups, some specific for adults with epilepsy, bring people with varied experiences together to share what they've learned and struggled within a setting designed to get them the support they need.
Statistics and warning signs come from the Epilepsy Foundation of America and Centers for Disease Control and Prevention.