Hopefully, the weather keeps holding out for us, because it's only gotten better over the week! Tuesday was our nicest day yet with sunny skies and perfect temperatures, a great day for more camp activities!

Day 3 brought even more cohesion and camaraderie between the camper groups, it seemed. From swimming down at the river shore to games of Nuke 'Em on the beach volleyball court, laughs and helping each other out were the common themes of the day.

Tuesday followed the same daily schedule as the other full days of camp – breakfast, rotating morning activities, lunch, rest, rotating afternoon activities, dinner, evening camp groups. The campers seemed keen to see what different activities were set up for today as compared to the one's from Monday and to explore different parts of the camp.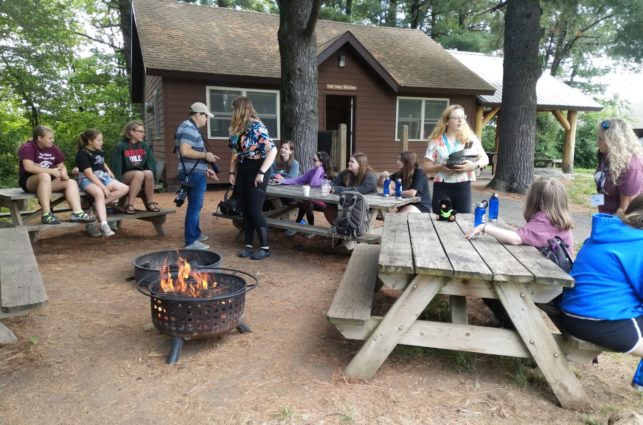 After Tuesday's dinner, instead of All Camp Games, the counselors set up camp fires, s'mores and other treats for each cabin group to gather around and hang out or play games. It was great to see them spending time with each other with no particular agenda, just hanging with their cabin mates.

To end today's report, I'll share a joke a camper told me today, "Why can't vampires get a date? Because they have BAT BREATH!" What a classic. Thanks for reading, and we're ready for another great Camp Oz day on Wednesday!
Looking for more pictures?
We'll update EFMN's flikr account as we get photos this week – check back often!
Go to Flikr