Alas, this day finally brought some sunshine for the campers! Waffles were for breakfast today – always a hit with this group. We had a birthday in the house, so we all celebrated that as well.
After breakfast the campers headed off to their morning activities. Our camp photographer was out this morning, so he was able to get some great shots of teambuilding, zip lining, rock climbing, gaga ball, outdoor cooking, arts and crafts, scavenger hunts, and kids in nature. (His photos will be available to view on our flickr page by next week).
It was so amazing to see so many campers try new things even though they were a little scared or cautious. Their cabin mates and counselors did such a good job cheering them on to go as far as they could. Definitely a day of firsts, and a day to remember.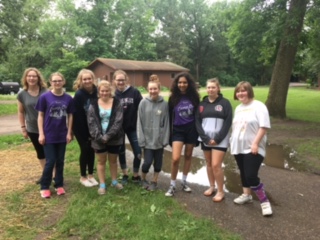 After lunch brought the sound of silence. Rest hour truly brought a time of rest for each cabin, which always seems to happen on Wednesday. It was well needed.
The afternoon was full of horseback riding, swimming and archery. The all camp game this evening was Woodyball, another camp favorite: it involves two teams, two treasures, and one winner. They ran their hearts out! I stopped by a couple cabins during their reflection time right before bed and it was such a cool experience to hear them sharing thoughts and feelings around what it's like to have seizures. I felt like it really brought the group closer together. We are ready to rock our last full day at camp tomorrow!