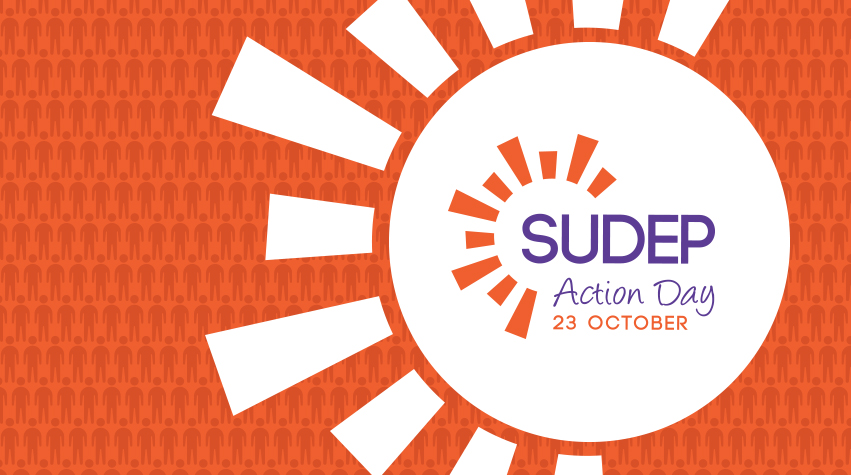 SUDEP Action Day was originally launched by SUDEP Action on October 23, 2014, as SUDEP Awareness Day. It shines a light on the largest cause of death in people with epilepsy, helping empower people through increased awareness and raising funds for SUDEP research.
What is SUDEP?
SUDEP is the sudden, unexpected death of someone with epilepsy, who was otherwise healthy. In SUDEP cases, no other cause of death is found when an autopsy is done. Each year, more than 1 in 1,000 people with epilepsy die from SUDEP. If seizures are uncontrolled, the risk can increase to 1 out of 150, making it the leading cause of death in people with uncontrolled seizures.
Take Action
#SpeakUp2SaveLives is a hashtag used to bring international awareness to SUDEP in order to help save lives. Use #SpeakUp2SaveLives to spread awareness today about SUDEP.
Using the hashtag is important to spread awareness, but the most important actions to take from SUDEP Action Day are to learn about SUDEP and to talk about SUDEP.
Take every step possible to control your seizures.
Talk about it. Talking about epilepsy can be hard to do. Talking about SUDEP can be even harder. But it's important to know your risks!

Talk to your doctor about SUDEP.
Download the SUDEP: Knowledge is Power PDF to start thinking about what questions you should be asking your healthcare provider.

Talk about it again. Once you've talked about it with your doctor, talk about it with those closest to you. Having a support system to talk about your epilepsy is always helpful in any situation.
The best way to reduce your risk is to speak with your doctor. These are additional strategies to reduce your risk:
Avoid seizure triggers
Avoid excessive amounts of alcohol
Live a healthy lifestyle (including adequate sleep, balanced nutrition, regular exercise, etc.)
Take medications as prescribed
Additional Resources
Connect Group
Loss of Loved One Connect Group
Meet and connect with others who have lost someone they love who was impacted by epilepsy. The next Loss of Loved One Virtual Connect Group is December 17, 2020.
RSVP