Frequently Asked Questions
General Information
How can I get involved?
This year, the walk will look different. Instead of having all of the walkers gather in one place for a walk, we are encouraging walkers to walk on their own, in their neighborhood. There are many ways to get involved:
Participate as a Team Captain, Team Member, or Individual Walker by registering here.
Donate to support a team, individual, or to the event itself here.
Raise awareness in your community by sharing the event with friends, neighbors, and organizations you are involved with.
How far should I walk?
Walkers are encouraged to walk 1.26 miles!
What can I expect on the day of the walk?
The morning of October 3 will begin with an online program, followed by time for people to leave their homes and walk in their neighborhood – around the block, at the park, or on the pathways. After everyone walks, they will return for a closing ceremony online with all walkers.
What does "Rally Online" mean?
The walk has been a vital event to gather our community and supporters in one place and take action for a cause and the individuals important to us. Since walkers are walking in their own neighborhoods this year, EFMN would still like to create a sense of community to bring everyone together. Rally Online is the effort of creating a united community for our walkers.
Since we are not able to be together physically, we can be together online.
The morning of October 3 will begin with an online program, followed by time for people to leave their homes and walk in their neighborhood, and then return for a closing ceremony online with all walkers.
During the walk, we are encouraging walkers to check in with photos and videos through social media, in which we can gather these stories to promote awareness for epilepsy
Why did you decide on October 3?
The original dates for the walks were August 6 for Duluth, Fargo, Rochester, and St. Cloud, and October 3 for the Twin Cities. In the decision to join all of the walks during the COVID-19 pandemic, moving all of the walks to the later date of October 3 was a strategic move to give walkers more time to create their team and raise money.
Registration
Is there a registration fee?
No, there is not a registration fee for the walk. However, we encourage our participants to commit to raising funds to help us End Epilepsy.
Do I have to register to walk?
Yes, we want to know that you're walking with us. All team captains, adults, and parents/guardians of young children are asked to register as a walker. Children under 18 do not need to register as long as they are with a parent/guardian.
We encourage captains to rally your teammates to register online to join your team.
How do I register?
You can start your registration here. EFMN hosts five walk locations, so be sure to select the region you will like to participate in – Duluth, Fargo, Rochester, St. Cloud, or Twin Cities. Once you go to the walk location, click on the "Register" button.
Register with your email and you will be prompted to Create an Account. The system will then prompt you to select if you would like to Create A Team, Join A Team, or Continue as an Individual Fundraiser. Follow the form to register for the walk.
I am a returning walker from 2019. Can I use the same email as last year?
Yes, you are able to use the same email. If you have forgotten your password, please email walk@efmn.org and we can reset your password for you.
How can I re-activate my team page from last year?
Unfortunately, you are unable to reactive a team page from last year. You will need to re-create your team page.
For additional help with registration, please email walk@efmn.org.
Fundraising
How do I add in fundraising amounts from cash or check?
To add in cash or check donations, log onto the walk website and go to "My Fundraising Tools." Click on "My Donations" on the gray bar on the left side of the screen. Once there, you should see a button on the right that says "+ Add Cash or Check" – click it. Fill out the donor information and click save.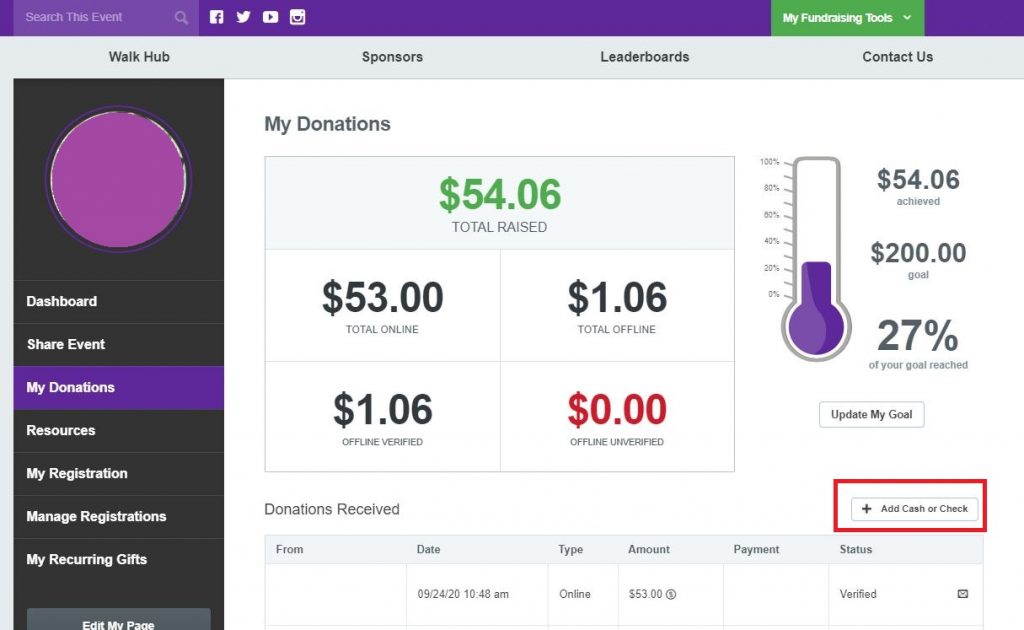 How do I add in a company match to my fundraising amount that is being paid with a check?
Follow the steps above. Next to Donor Information, click on "Company Donation" and you will be able to add in company information.

How do I start fundraising?
The best fundraising efforts start by sharing your personal story about why you're participating. You can share your story on your personal fundraising page by logging in to your Fundraising Dashboard. Once your page is updated, share it with friends, family, and coworkers via email, social networking, and word of mouth. You can view Walk Resources to view additional fundraising ideas.
What happens to the money raised at the walks?
The funds raised go back to the region that they are raised for. They are used to support services and programs available, such as Seizure Smart Trainings, Connect Groups, and social events.
How can I get my company to match my gift?
Many employers offer programs to match charitable contributions made by their employees. These "matching gifts" are an opportunity to double or possibly triple your donation. If you are not sure if you qualify for a matching gift, please reach out to your HR department or leadership team for more information.
If your employer is able to match your donation, you can send your personal walk link from your Fundraising Dashboard, where they will be able to make a donation. If they prefer to write a check to you, you are able to go to your Fundraising Dashboard, under My Donations, and add Cash or Check under Donations Received.
Register Today
EFMN will host five walks for our communities! Together we can end the silence, end the isolation, and end the stigma.
Find a Walk Near Me